Gleb Gribakin
PhD 1987, St Petersburg, Russia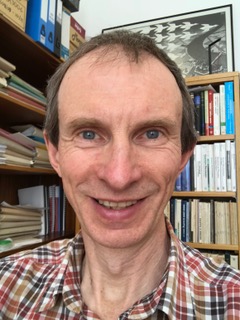 Here is an earlier picture of Dr Gribakin with an apple...
This is how Queen's University and its surrounds look through the seasons: Autumn, Winter (atypical), Spring
You can find Queen's at the bottom of the Belfast City Centre map.
My research interests are mainly in Theoretical Atomic Physics, and I do my research in the Centre for Theoretical Atomic, Molecular and Optical Physics (CTAMOP).
Selected topics:
Many-body theory in atoms.
Electron-atom scattering, negative ions, photodetachment.
Interaction of positrons with atoms and molecules: scattering, bound states and annihilation.
Quantum chaos in complex atoms and other many-body systems.
Multiphoton processes in strong laser fields.
Some of the more recent papers
Full list of publications. (PDF files available for many papers.)
---
Still at school and thinking about doing a Mathematics or Applied Mathematics and/or Theoretical Physics degree? These are all largely about problem solving, and here is a selection of some of my favourite simple and not so simple maths problems.
---
Dr. Gleb Gribakin / phone: +44 (0)28 90971936
E-mail: g.gribakin@qub.ac.uk